Wedding Dress Drycleaning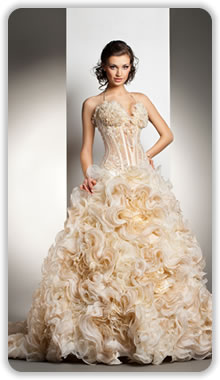 We are the most experienced wedding dress and ball gown dry cleaning specialists in Northern Ireland.
Your wedding dress is probably the most precious and expensive dress you will ever wear and holds lots of special memories. It is therefore essential that you have it professionally cleaned after your wedding day. Left without being cleaned can lead to permanent staining on the delicate material
Churchills dry cleaners specialises in the cleaning and finishing of all styles of wedding dresses from antique and contemporary to originals and designer collections.
We dry clean 8 to 10 dresses a week and has allowed us to become highly skilled in dry cleaning and finishing wedding dresses that ordinary dry cleaners may find difficult.
We understand the effects of various solvents on different types of fabric, beading, sequins and trimmings and have both Perchlorethylene and Hydrocarbon dry cleaning machines that have been specially adapted so that we have full control over the processing of each individual wedding dress.
Crystal & Glass Beaded Dresses: Special Care
Crystal & glass Beaded dresses are the hardest to clean. They are becoming more and more popular and more and more elaborate. We know and understand the problems that can arise from trying to clean crystal and glass beaded gowns. YOU MUST find a dry cleaner that is competent in cleaning wedding gowns with these trimmings. There is always a risk in dry cleaning what is essentially pieces of glass. They can break, they can cut threads and they can catch on chiffons, silks and organzas. A dry cleaner competent in glass trimming will have ways of protecting gowns from damage. Beads, Crystals & dangly bits are becoming more complex as the years go on.
Once the dress is leaned you can either take your dress hung or have it boxed in acid free tissue paper for posterity.